Looking for Global Auction Software to expand your auction business?
With over 15 years of experience in the online auction industry, it's safe to say that we're experts in global auction software solutions. As a world-renowned online auction software provider, we have the online auction solution for you.
Our heavy-duty, robust online auction software is packed with customisations and features that all auctioneers need to stay ahead of the game. Our software is white-labeled, and is styled in your business's colours, logos and branding.
Our flexible range of selling options within the system will provide you with a single online hub to run your online auctions from your own website.
Our cloud-based auction software allows our clients to run timed online auction and streaming webcast auctions at will.
Our smart pre-bidding function and pre-bidding during an auction come as standard so that your bidders have the best opportunities to place their bids online.
Our auctions are scalable, and easy to set up.
You will not need to invest in any hardware, programs or licenses, we have the solution for you. We provide you everything to get online and start competing with the biggest auction companies in the world.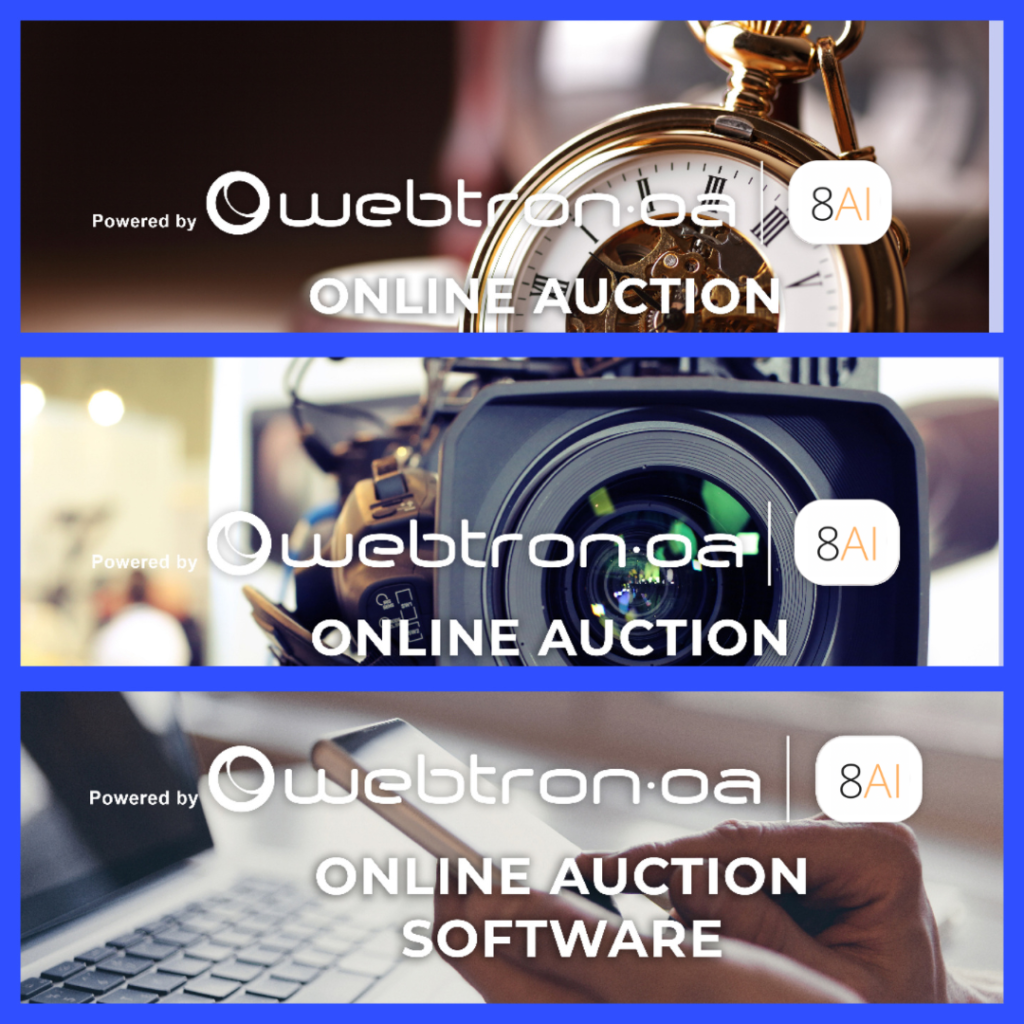 Why Webtron?
The software from Webtron was created specifically with auctioneers in mind.
The Webtron white-label auction gateway uses cutting-edge technology, is customised to reflect your auction business, and operates from your own website.
The automobile, heavy equipment, automotive, clearing sales, machinery, wine, collectibles, livestock, business liquidations, and many more auction verticals have all successfully integrated this online auction software.

Are you ready to begin?
The New Webtron 8.0AI Auction Software has arrived
There has never been a better time to upgrade your online auction software to Webtron's 8.0AI newest auction software release.
Get ahead of the competition and take advantage of a white-label auction solution that runs from your very own website. It has been designed for Global auctioneers like you to take your online auction business to another level.
It's 'Simple for bidders and powerful for auctioneers'.
Please get in touch and arrange a demo for your business.
FAQS
What is global auction software?
Global auction software is a computer program that is designed to help auction houses and other organisations manage auctions across multiple locations or countries.


What are the benefits of using global auction software?
Global auction software provides auction houses and organisations with an efficient way to manage auctions across multiple locations, including creating detailed listings and managing bids. It can also help organisations reach a larger audience, increase sales, and streamline the overall auction process.


How does global auction software work?
Generally speaking, global auction software works by giving auction houses and organisations a platform to post their assets for sale, handle bids, and streamline the auction process across various locations or nations. This incorporates functions like real-time updates, online bidding, and thorough reporting.

What features should I look for in global auction software?
When selecting global auction software, it's important to look for features that Webtron has like online bidding, multi-language support, multi-currency support, detailed reporting, and real-time updates.


Is global auction software easy to use?
Webtron global auction software solutions are designed to be user-friendly and easy to use, even for those who are not particularly tech-savvy.
How do I select the best global auction software for my needs?
When selecting global auction software, it's important to consider factors like the specific features and functionality you need, the cost of the solution, the level of support offered, and the overall ease of use.